Unleash your inner prairie vole this World Kindness Day
Yes, that title is too insane to be a typo. And no, you're not imagining it either!

This may sound a little odd but scientific research1 has in fact flagged prairie voles as the kindness role models of the animal kingdom. In fact, here's a few examples of just how nice they are – the typical prairie vole:
mates for life

shares parenting responsibilities

collaborates on building nests

regularly grooms other voles

consoles other voles that are feeling stressed out

will give you its last Rolo (not a real fact)
There's even irrefutable photographic evidence to back this up: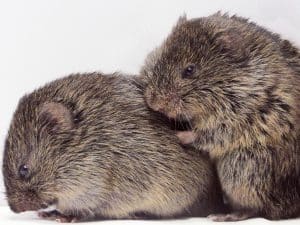 I'm sure you'll agree, the world would be a better place if we all took a leaf out of the prairie vole's book. And fortunately you don't need to go and live underground in the grasslands of North America in order to bring a bit of that magic into your life.
Research shows that the reason these burrowing rodents are so good natured is because they're absolutely teeming with oxytocin,2 the neurotransmitter responsible for social bonding. Oxytocin is also found in humans. So if you can boost your oxytocin levels, you too can be this kind.
Manufacturing oxytocin – sounds simple doesn't it? It's actually much easier than you might expect. You don't need to break out of lockdown to perform random acts of kindness across the local community. You don't have to be nice to your roommate with the extremely loud keyboard and booming phone voice. In fact, you don't have to talk to anyone…apart from yourself.
Stay up to date with all the latest wellbeing at work research, tips and resources by joining our monthly newsletter. We won't share your data or spam you with irrelevant information 🙂
Meditating to boost oxytocin levels
Our bodies are wired for trust, love and belonging, because this is integral to our survival. It's part of the reason humans have such an incredible capacity to forgive, to love, and to look out for each other. A lot of this wiring sits in our social engagement system (SES), the bit of our nervous system that helps us to feel safe and to love, which sits within our parasympathetic nervous system. 
Slow, deep breathing activates the parasympathetic nervous system,3 so when we regulate our heart rate and drop into a state of meditation, we are creating optimal conditions for us to build our sense of connection to others. The practice of compassion meditation takes this a step further and has been found to stimulate the release of oxytocin in the brain.4
A now-famous research study also found that the practice of compassion meditation creates high levels of activity in the left prefrontal cortex, an area associated with happiness, joy and enthusiasm.5
So how can you try this yourself?
Our very own Rosa Connor has created a free guided compassion meditation audio to help you channel your inner prairie vole. All you need is a place to sit comfortably for a few minutes. Give it a go!
Hopefully you're feeling good after that taster of compassion meditation. This practice has been found to enhance levels of prosocial behaviour6 and help to resolve interpersonal conflicts.7

If you'd like to keep the good vibes flowing, why not write a nice message to a friend, family member or colleague and spread a little kindness today!
Stay up to date with all the latest wellbeing at work research, tips and resources by joining our monthly newsletter. We won't share your data or spam you with irrelevant information 🙂