5 Data-backed Ways To Improve Wellbeing At Work
You've read about the benefits of improving wellbeing at work and you're ready to take the next step. One that takes those insights, turns them into action and gives them an enthusiastic kick start.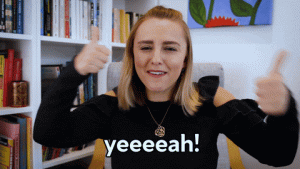 But after reading a dozen blog posts, you still don't know where to start. 
No sweat! 
In this post, we're going to cover five data-backed workplace wellbeing interventions. So you can happify your workplace with minimal risk and maximum impact.
1. Encourage mindfulness to improve wellbeing at work
Mindfulness is the biggest trend to hit the corporate world since the team-building 'away day'. Just a decade ago, meditation spaces and mindfulness mornings were fantasy projects for the most out-of-the-box tech startups. Now, everyone's doing it.
If you're new to mindfulness, it's simply the practice of cultivating your awareness of the present moment. The most common techniques involve focussing on your breathing or other forms of meditation.
But is it a fad, or something more? According to the research, it's the latter.
People who practise mindfulness are more engaged, more satisfied and less stressed at work.1 And mindful people are better able to cope with the kind of periods of heightened stress that commonly crop up2 in the workplace.
The good news for budget-holders everywhere is that, according to the data, mindfulness interventions do have a statistically reliable positive effect on an employee's overall work performance.3

But how can you integrate mindfulness into your workplace wellbeing strategy?
We have a few ideas:
Put half an hour aside before morning meetings for group mindfulness practice

Teach three simple mindfulness techniques to your current staff

Include mindfulness training in your staff onboarding process

Get free access to wellbeing resources, news and research
Get access to the exclusive Haptivate Wellbeing Resource Hub and stay up to date with all the latest wellbeing at work research, tools and tips by joining our monthly newsletter. We promise not to share your data or spam you with irrelevant information 🙂
2. Encourage autonomy to improve wellbeing at work
We tend to dislike things we can't control – think parent's evening, traffic jams and life admin. When we have little say in what or when we 'do', simple tasks become distressing – which is a dynamic that also applies to work.

Employees who have little control over their working day are less focused and less satisfied with their jobs.4 On the flip side, those who feel a sense of autonomy and control report high engagement, satisfaction and wellbeing.

Self-determination theory helps us understand how this works. It describes a person's need to make their own choices and control their own life.5 Unsurprisingly, most people obstacles to self-determination troubling, which is why poverty, incarceration and other forms of social and economic entrapment are so distressing.6

Self-determination theory helps explain why 'professionals' (e.g. health care workers, welfare professionals and teachers) suffer more from work-related stress, anxiety and depression than do other groups of UK workers.7

And why those in management roles – who report the highest levels of workplace autonomy8 – are among the most satisfied and least stressed workers in the UK.

But aside from promoting your entire workforce to management positions, what can you do to encourage autonomy in your workplace?

The World Happiness Report suggests giving employees control over how their workday is structured and the pace at which they work.9

But beware the blanket approach. Research shows that different people respond to different forms of workplace autonomy. For example, women benefit more from 'schedule control' (e.g. work time flexibility and the opportunity to work from home), whereas men respond to increased 'job control' (e.g. control over the type and pace of work).

It's also worth noting that managers are often ill-equipped to meet employees' need for autonomy in the workplace because management training typically focuses on increasing efficiency and maintaining control – not giving it.

You can encourage greater autonomy in your workplace by:
booking one of our training workshops for managers

Offering more flexible working arrangements

Empowering employees to schedule their own work based on business goals
3. Provide learning and development opportunities to improve wellbeing at work
What would you say is the most common reason people give for leaving their job? If you said 'to earn more money' you'd be wrong my friend. In reality, most people quit to develop their career elsewhere.10 And considering the science, that makes a lot of sense.
Evidence suggests that engaging in learning and development opportunities helps employees achieve competence which, in turn, improves their confidence and sense of autonomy11 (see above). 
So, you can improve wellbeing in your workplace by better training your staff. Plus, you'll benefit from a boost in staff retention and job quality (did someone say 'win-win'?). 
But you don't have to throw your chequebook at your training department or haul in a 6-figure consultant to get results. To improve learning and development in your workplace you could:
Set up a system of peer-to-peer training

Implement a job-shadowing scheme

Empower employees with mentoring and coaching positions
4. Invest in wellbeing workshops to improve wellbeing at work
Yes, we know we're tooting our own horn here, but hear us out…
Data shows that investing in wellbeing initiatives like workshops improve wellbeing at work. It always pays to have experts on side, but it's more than that. Running workshops shows your staff that you:
Are proactive about their wellbeing

Recognise and want to invest in your their happiness

Want them to learn and develop new skills (see above)
Still don't believe us? 
In a recent review of workplace interventions, 27 out of 41 had a demonstrably positive impact on the business.12 In fact, businesses can expect a 3-5X return on investment for every dollar they spend boosting happiness in the workplace13 14– and as much as 34X their initial outlay.15

That's a great investment by any standard.
Plus, when you make your business case for workplace wellbeing initiatives, you'll find you only need to move the needle a fraction (e.g. a few minutes of increased productivity per week per employee) to reap the rewards.
5. Encourage a culture of appreciation to improve wellbeing at work
It's easy to dismiss 'appreciation' as a few casual compliments exchanged by the water cooler. But it's more than that.
According to leading positive psychologist, Martin Seligman, feelings of appreciation and value are tied to accomplishing and recognising the accomplishment of goals.16Which is why teams are happiest when they regularly make and recognise their progress.17

Research shows that the most high-performing teams share positive feedback more frequently than their less successful counterparts.18

In other words, we need to feel like we're making consistent progress towards meaningful goals – and we need to share this progress with others. 
Let's take a quick look at the data.
According to a study by Towers Watson – managers play an especially important role in creating a culture of appreciation. Why?  Because feeling genuinely appreciated by a manager is the single biggest driver of employee engagement.

In an online survey of 228 male officers in the Swiss Armed Forces, appreciation at work correlated positively with job satisfaction and negatively with feelings of resentment.19 But, more than that, appreciation appeared to buffer the effect of long working hours and illegitimate tasks on job satisfaction.
A little appreciation goes a long way.
You can nurture a culture of appreciation in your workplace by: 
Actively practising gratitude during team tasks

Running regular open-door feedback sessions between managers and employees

Providing empathy training to managers
That's a wrap
Knowing why you should invest in workplace wellbeing is one thing. Understanding how to is quite another. In this article, we've covered five of the simplest and most effective ways you can do it – according to science. 
If you want help getting from concept to implementation with your wellbeing strategy, speak to one of our enthusiastic wellbeing experts today.
If you're searching for a partner to help improve wellbeing and happiness in your workplace, get in touch with a friendly member of our team. We're here to help you reach your goals.
Other articles that may interest you…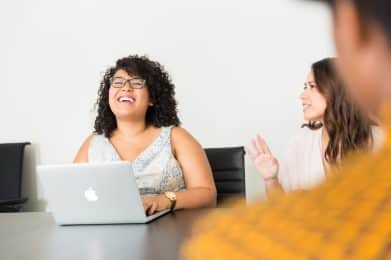 Talking about mental wellbeing at work can be daunting. Check out these tips to help open the dialogue and better support each other!