How to Implement a Successful Employee Wellbeing Programme - a Practical Guide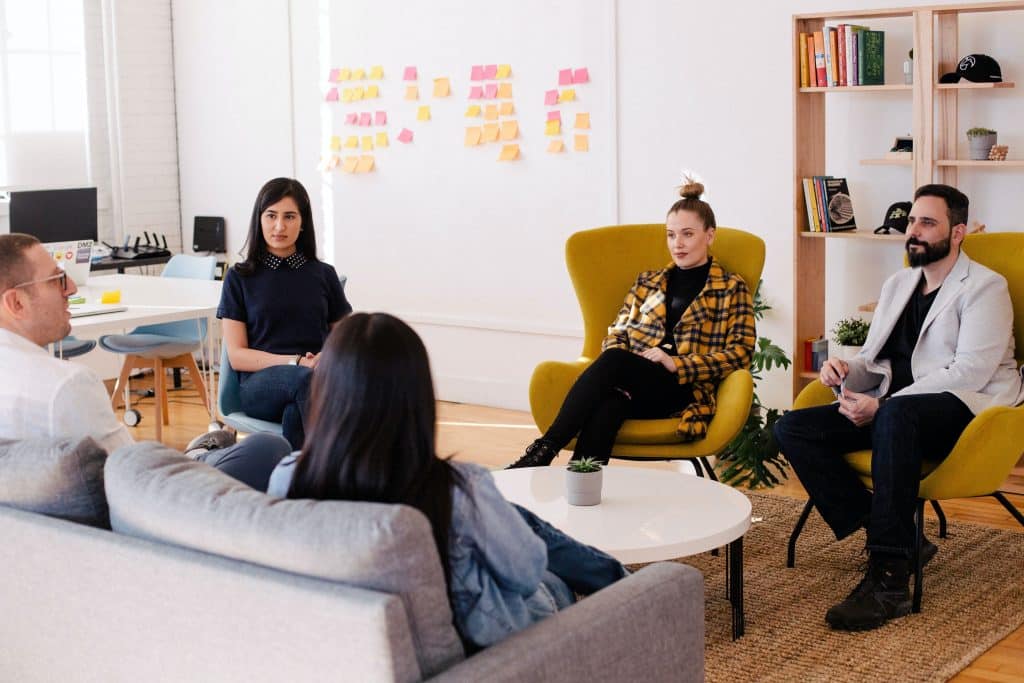 Many employers are waking up to the importance of employees' health and wellbeing in driving business success. So, you might be one of the growing number of lucky individuals with responsibility for developing and delivering amazing wellbeing programmes.

It's a big undertaking that can feel overwhelming, but if you'd like a hand then you're in the right place. This practical guide will help you to:

Develop a new wellbeing programme using best practices that will set you up for success

Breathe new life into existing wellbeing programmes and health initiatives with fresh ideas and inspiration

Identify where things might have gone wrong if your existing health and wellbeing strategy hasn't yielded the desired results
Organisational approaches to supporting employee health and wellbeing can range from a collection of smaller initiatives up to comprehensive workplace-wide programmes. But no matter what format you decide to go with, many of the underlying principles that drive success are the same.

Let's dive in!
What is an employee wellbeing programme?
Broadly speaking, employee wellbeing programmes are a mechanism through which an organisation invests money, time and other resources to support and improve employee's mental and physical wellbeing.
Like all investment decisions, the programme should be backed by a sound strategy that lays out the benefits it aims to create for the organisation and how. Fortunately, there is growing evidence that shows that supporting employee wellbeing is a great business decision.
The programme will also determine the practical ways that the organisation provides support to employees. Holistic programmes will consider: 
how work is organised and carried out at the organisation

preventative approaches that manage risks and build resilience

the support provided when employees experience physical and mental health difficulties

developing a supportive culture and the organisational habits, routines and behaviours that go along with this
What are the benefits of an employee wellbeing programme?
It's never been more crucial for businesses to support mental health. According to a recent CIPD poll, mental health issues account for 56% of long-term leave, making it the leading reason for sickness absence. Despite this, most employers are underprepared with just 40% of UK organisations having a workplace wellbeing programme in place.
Effective workplace wellbeing programmes go beyond merely supporting employee health – they create a company culture and working atmosphere where individuals can flourish and thrive. There's significant business benefits that come with this so health and wellbeing programmes are a win-win that creates mutual benefit for the organisation and the individual.
Gallup research shows that employees at companies who invest in workplace wellbeing are:
42%

more likely to evaluate their overall lives highly

27%

more likely to report "excellent" performance in their own job at work

27%

more likely to report "excellent" performance by their organisation

45%

more likely to report high levels of adaptability in the presence of change

37%

more likely to report always recovering "fully" after illness, injury or hardship

59%

less likely to look for a job with a different organisation in the next 12 months

18%

less likely to change employers in a 12-month period
And this is just for starters. If you'd like even more detail and data, definitely check out our article on the benefits of wellbeing at work.
Perhaps you'd like to go a step further and develop a business case for investing in this area? While workplace wellbeing is often treated as an intangible that can't be quantified, putting a number against these benefits is actually easier than it sounds. Check out our article on how to make a compelling business case for wellbeing at work.
In a hurry? No problem! We've created a free Wellbeing Programme Planner for you to download.
Join the Haptivate newsletter to get access to the Wellbeing Programme Planner, plus all our of our other free wellbeing at work resources. 
Print it out and use it to help keep you on track as you plan a wellbeing programme for your organisation.
How to plan an effective employee wellbeing programme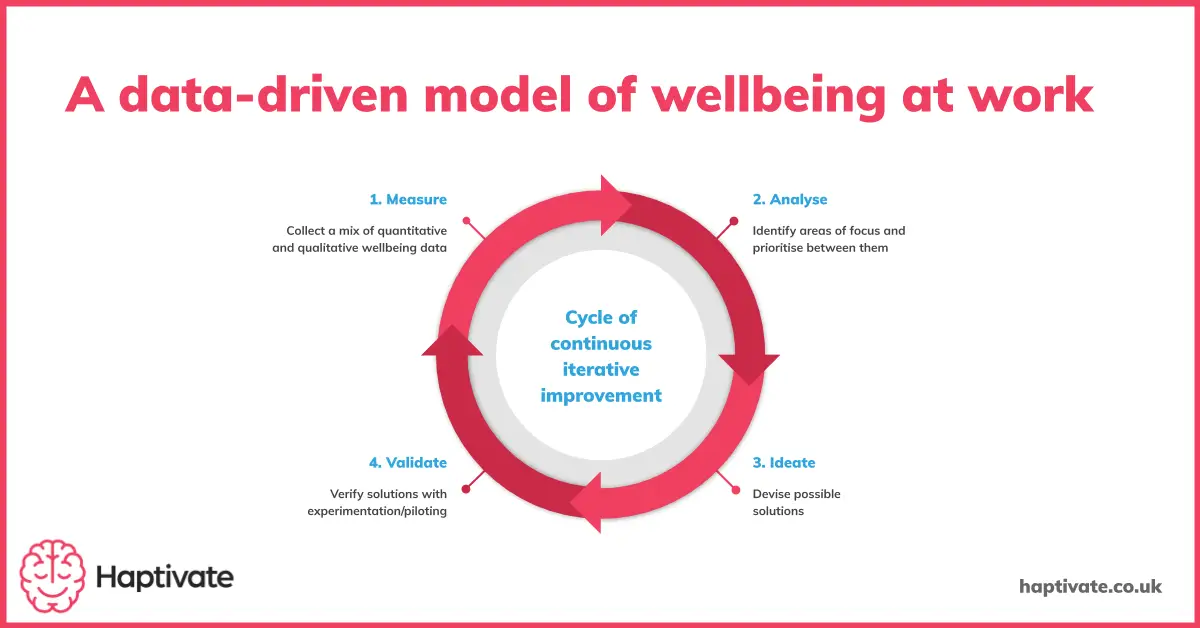 1. Do your homework
It can be tempting to jump right into planning exciting events and snazzy comms but resist! Successful wellbeing programmes are built with sound data and thoughtful analysis. Without this, you're flying blind and susceptible to being misled by inaccurate assumptions.
So take some time to properly map out your current situation, determine priorities and thoroughly test your ideas before making any big commitments.
Consider external research that can deepen your understanding as well as conducting your own research and data collection internally.


2. Set goals
You've probably heard 'Begin with the end in mind' before – it's actually one of Stephen Covey's 7 Habits of Highly Effective People. But it's a crucial factor that many organisations overlook. 
As exciting as embarking on an exhibition into unknown territory may sound on paper, in practice, it's a really good way to get lost and waste a lot of time, energy and money in the process. 
So before you get going, it pays to give some serious consideration to the destination you'd like to reach. So imagine for a moment that you have a wildly successful wellbeing programme already in place…
What does your organisation actually look like in three years time?

What would your employees say about it?

How might you measure the positive difference that's been made?
The answers to these questions can provide your programme with a north star that you revisit, ensuring that the decisions you take are keeping you on course for success.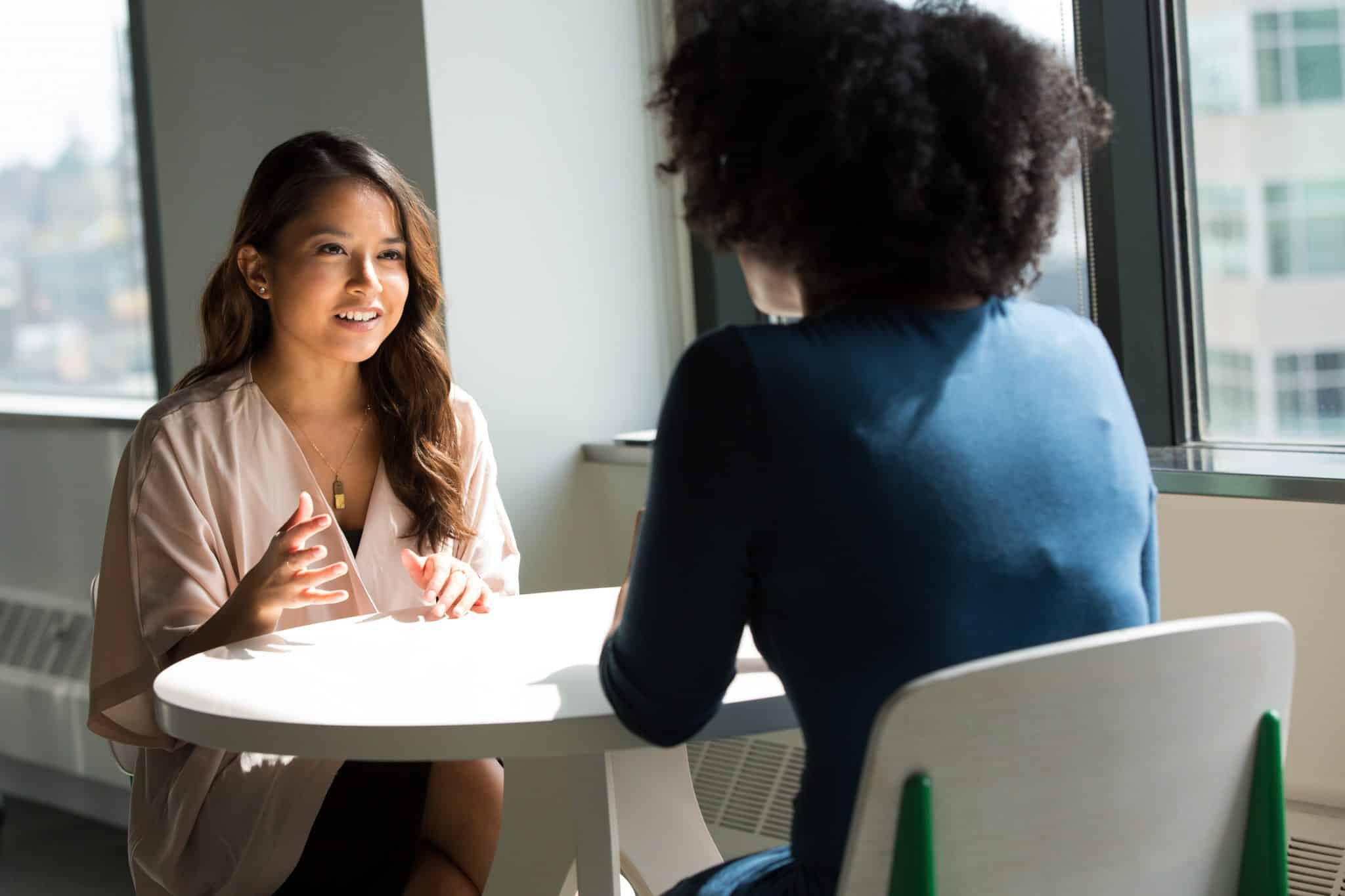 3. Ask employees for input
Don't assume you know what your employees want. It's impossible to fully anticipate the diverse needs of a whole company of people. It may surprise you how much priorities differ from person to person. 
You'll get a much better understanding of what they really need and want by asking them directly. They'll help you to determine where your company's physical and mental health support is lacking and what employees would benefit the most from.
You can do this by sending out an email survey but don't pass up opportunities to dig even deeper. Discussing it within team meetings and one-to-ones is likely to uncover additional valuable insights.
Once you've developed a broad picture of the kinds of health and wellbeing benefits people want, the next goal is prioritisation. Create a shortlist of the top picks and send out a poll to narrow it down further and identify the best places to start.


4. Develop a plan of action
The information you've gathered so far should provide a good sense of the health and wellbeing agenda that needs to be addressed at your organisation. You'll have an understanding of the goals that matter most as well as the approaches that are most likely to resonate with employees. Next, you need to think about what this will all look like in practice over the coming months as the wellbeing programme begins to take shape.
To start with, you'll need to consider some of the key practical elements that will inform the scope of the programme:
Available budget (Check out

how to make a compelling business case for wellbeing at work

if you want to request more!)

Duration of the programme

Assigning roles and responsibilities

The resources you'll require

How the programme will be communicated

How and when you'll measure the performance of the programme
5. Have a preventative focus
There are a number of different angles you can approach your programme from and the goal should be a holistic approach that combines them. Broadly speaking, there a 3 types of wellbeing initiatives you should utilise – primary, secondary and tertiary: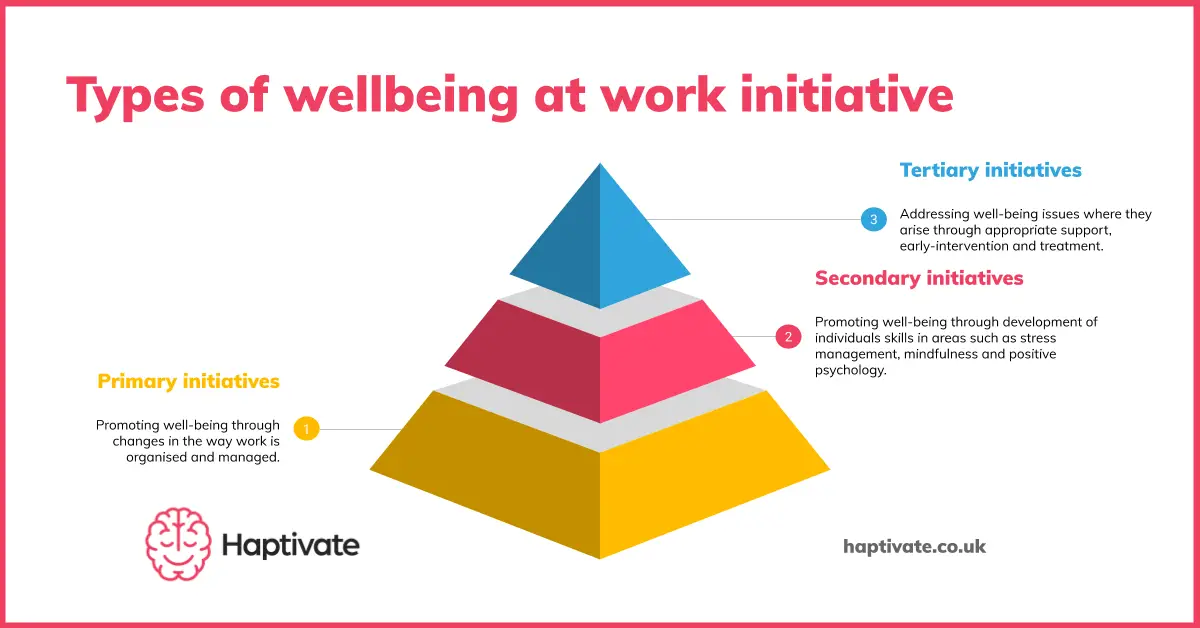 To achieve long term success, it's important to seek out and address root causes rather than simply react to problems as they arise. This ensures you're truly enhancing the health and working lives of your teams as opposed to just trying to make a bad work environment a little easier to cope with.
It's also a much better use of resources to nip wellbeing issues in the bud rather than try to tackle them after they escalate. So head off issues proactively by eliminating sources of work-related stress and equipping employees to better look after their own health and wellbeing needs.


6. Consider behaviours and habits
At the outset of your programme, it's helpful to consider the types of habits and behaviours you'd like to see amongst employees, line managers and senior managers. In other words, what should be happening across the business outside of the events and initiatives you're creating? Developing a picture of this will help you gear your plans towards driving a genuine shift in day-to-day culture.
For example, one habit you'll probably want to create is having regular and open conversations about wellbeing. There can often be some unease about discussing mental health at work, but it can become a normalised part of the work day. 
Developing a more supportive culture helps your people feel valued and can boost employee engagement. For tips on how to get the conversation started, check out our post on How to Talk About Mental Health at Work.
What health and wellbeing initiatives to include in your programme
Remember, you can't please everyone. But, by implementing a variety of perks and work-related wellbeing initiatives, you can certainly make a big difference.
If you're wondering what to include, here are some ideas to get you started…
A kick-off event to drive awareness and enthusiasm
A kick-off event is your time to send a signal of commitment and intent to you colleagues. It also presents a whole host of opportunities that can help to get the programme off to a great start:
Dispelling wellbeing myths and misconceptions with data

Creating a consistent understanding of wellbeing

Establishing transparency around wellbeing goals and commitments

Demonstrating sponsorship and participation from leadership

Instilling a sense of ownership over the programme

Providing a mandate for employees to prioritise their health and wellbeing

Offering a chance for employees to connect in new ways


Stress management and resilience skills
In many cases, the best individuals to manage employee wellbeing are employees themselves. We all know that stress impacts wellbeing, but it also has a significant effect on the work people produce. By equipping your teams with the knowledge, tools and techniques to deal with work-related stress, they are more likely to: 
Make better decisions

Lead teams effectively

Have a better work-life balance

Be able to regulate their emotions 
Explore Haptivate's Stress Management & Building Resilience Workshop can help you equip your employees.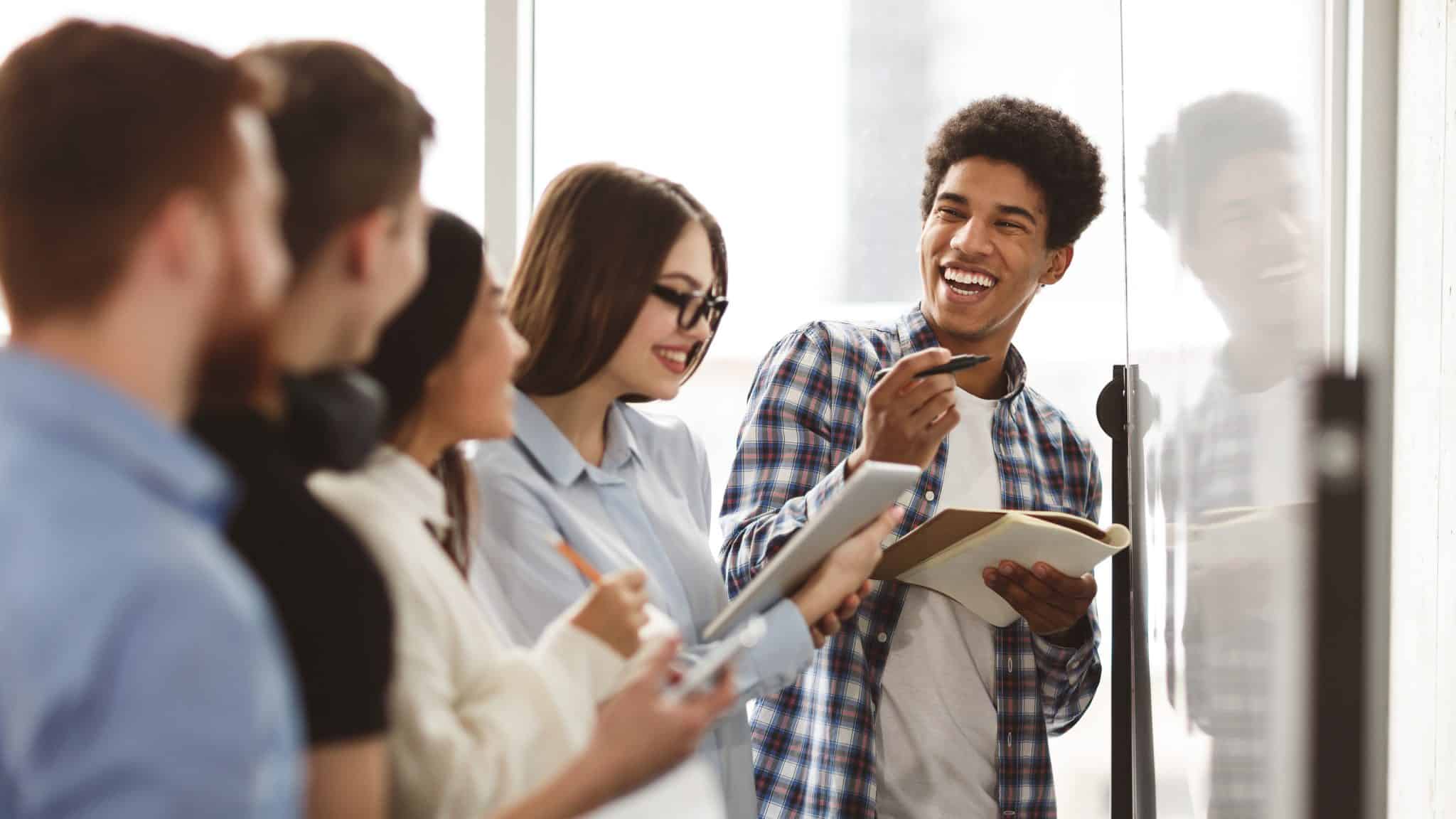 Wellbeing Champions
It's also important to offer alternatives for employees who might not feel comfortable discussing wellbeing matters within their reporting lines. Champions can be a great resource both for employees and the broader organisation.
As well as acting as a liaison for employees, it's their role to come up with new, innovative strategies to promote workplace wellness and encourage employees to participate. They are also eyes and ears that can monitor workplace health as your programme develops and coordinate change management on the ground.
With our Wellbeing Champion Programme, we can help you create a skilled team of champions to take ownership of wellbeing at your organisation.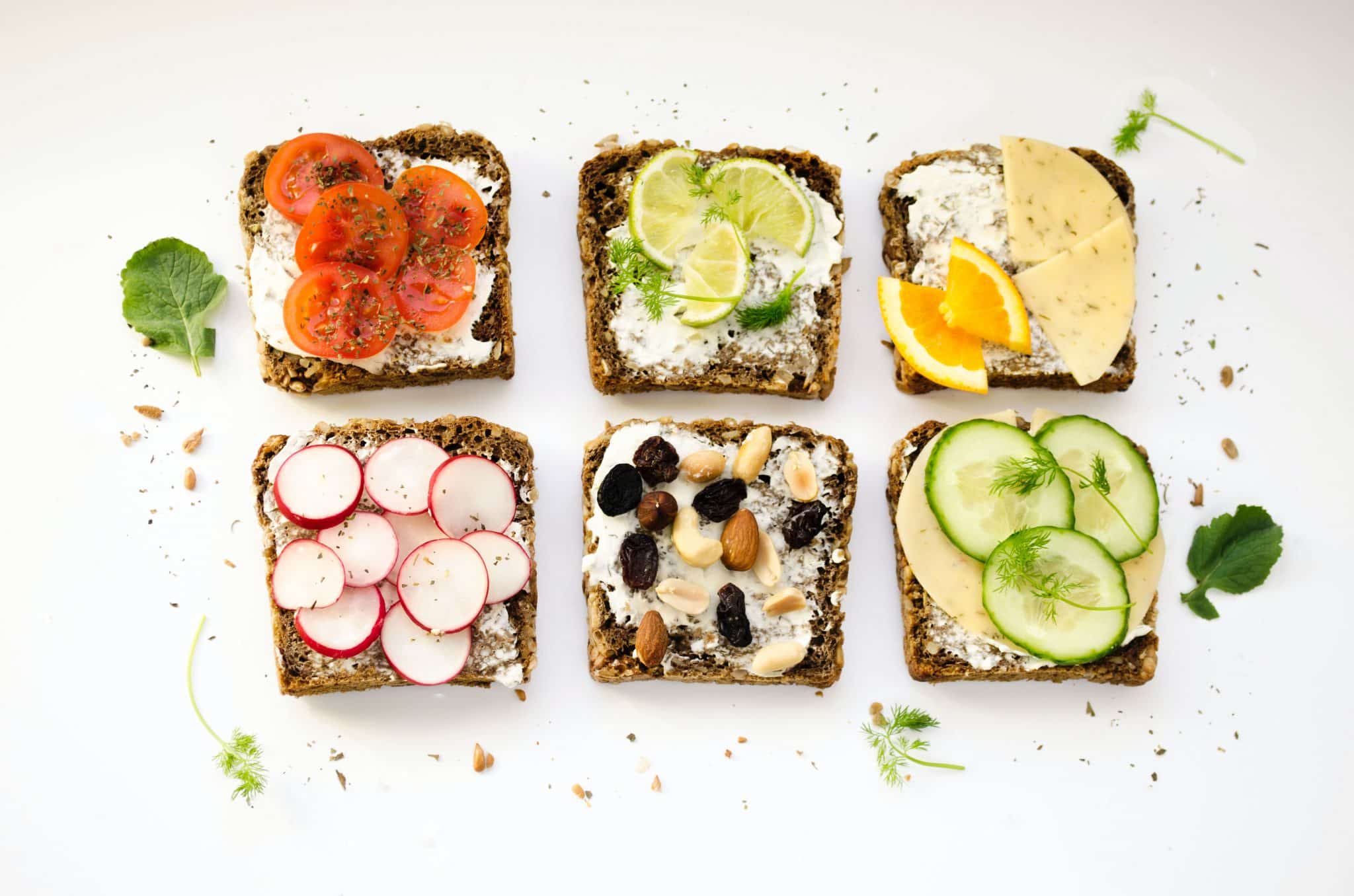 Healthy eating
This is an area you've no doubt already considered as part of your health promotion efforts. The benefits to workers' health of eating healthily are well understood (even if can be easier said than done!) But going beyond physical health benefits did you know that we can regulate our stress hormones and body chemistry through our diet?
When we're stressed, we tend to crave sugar and junk food. It can become a vicious cycle that's a recipe for ill health. Educating your employees on the link between food and mood can help integrate better wellbeing habits into their daily routines.
Here are some ideas to help boost workforce health:
Distribute information in offices and on the intranet about the benefits of healthy eating

Provide free healthy snacks

Hold a workshop about easy ways to eat healthier. You could even record it and pop it on your workplace intranet so your team can access it whenever they want.

Host a monthly cook-off competition – but instead of the usual high sugar treats, give it a healthy makeover


Mindfulness
With so much going on around us, it can be difficult to feel truly focused on work. Practising mindfulness can significantly boost mental wellbeing as well as help to increase focus, reduce conflict, improve communication and increase productivity. 
Encourage people to give it try by:
Hosting mindfulness workshops

Offering free access to a meditation app such as Headspace or Calm

Taking a moment at the beginning of meetings – the Haptivate App includes some audios that can help with this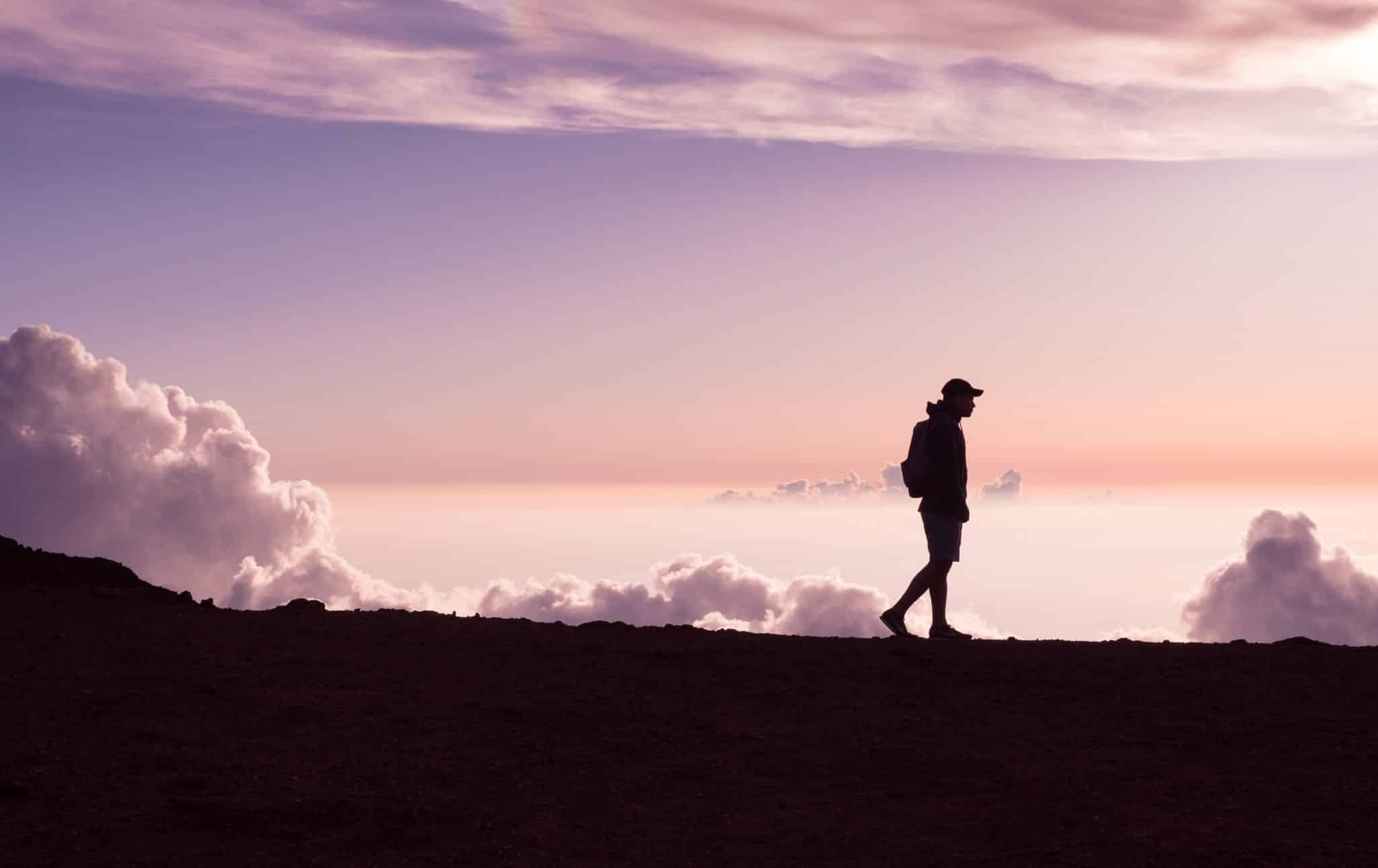 Exercise
Exercise offers numerous employee health benefits. According to the NHS, it can improve wellbeing, self-esteem, mood, sleep quality, and benefits while also lowering the risk of stress and depression.
Here are some ideas to build the exercise habit at your company:
Offer discounted gym memberships or create a dedicated area in-house for staff to work out

If you're in the UK, promote the cycle to work scheme. It's a win-win for both employees and employers as you both save National Insurance contributions

Encourage walking meetings, giving employees a chance to move from their desks

Introduce a step challenge such as "walk to the moon" – which is a mere 

1,008,923,520 steps in case you're wondering!


Flexible working
Flexible working is a big one when it comes to employee job satisfaction and improved work-life balance. And, studies show there are also some big benefits to the employee such as; improved performance, higher staff retention rates, reduced sickness absence and lower stress levels of staff.
Here are some ideas to get you started:
Introduce flexible working hour schedules

Provide hybrid working options where employees can split time between home and the office. Sign up for our newsletter to get

FREE access to our resource hub

which includes a Hybrid Working Action Plan.

Allow employees to buy extra holiday days to top up their annual leave. You can also save some National Insurance in the process.

For staff who work remotely, encourage and support them to create a proper working environment to support their health and wellbeing. For more information on remote work wellbeing check out our guide on this topic!
Health checks
Attending frequent health checks helps improve general wellbeing and catch any possible concerns early, helping your people to stay in good health.
Here are some ideas:
Introduce an Employee Assistance Programme (EAP) to help employees deal with personal problems that might adversely impact their work performance, health and wellbeing

Get a health professional to host a talk on doing self-checks on things like breast or testicular cancer, helping your employees to take care of their own health

Occupational health assessments in the workplace


Financial wellbeing
Money issues can have a big impact on people's mental wellbeing, which in turn can affect work performance.
By implementing a financial wellbeing policy, even small businesses with limited resources can offer support to their employees.
Think about:
Making sure everyone is aware they can receive free independent money and debt advice from the

Money and Pensions Service

Letting them know about any retirement planning benefits and resources the organisation offers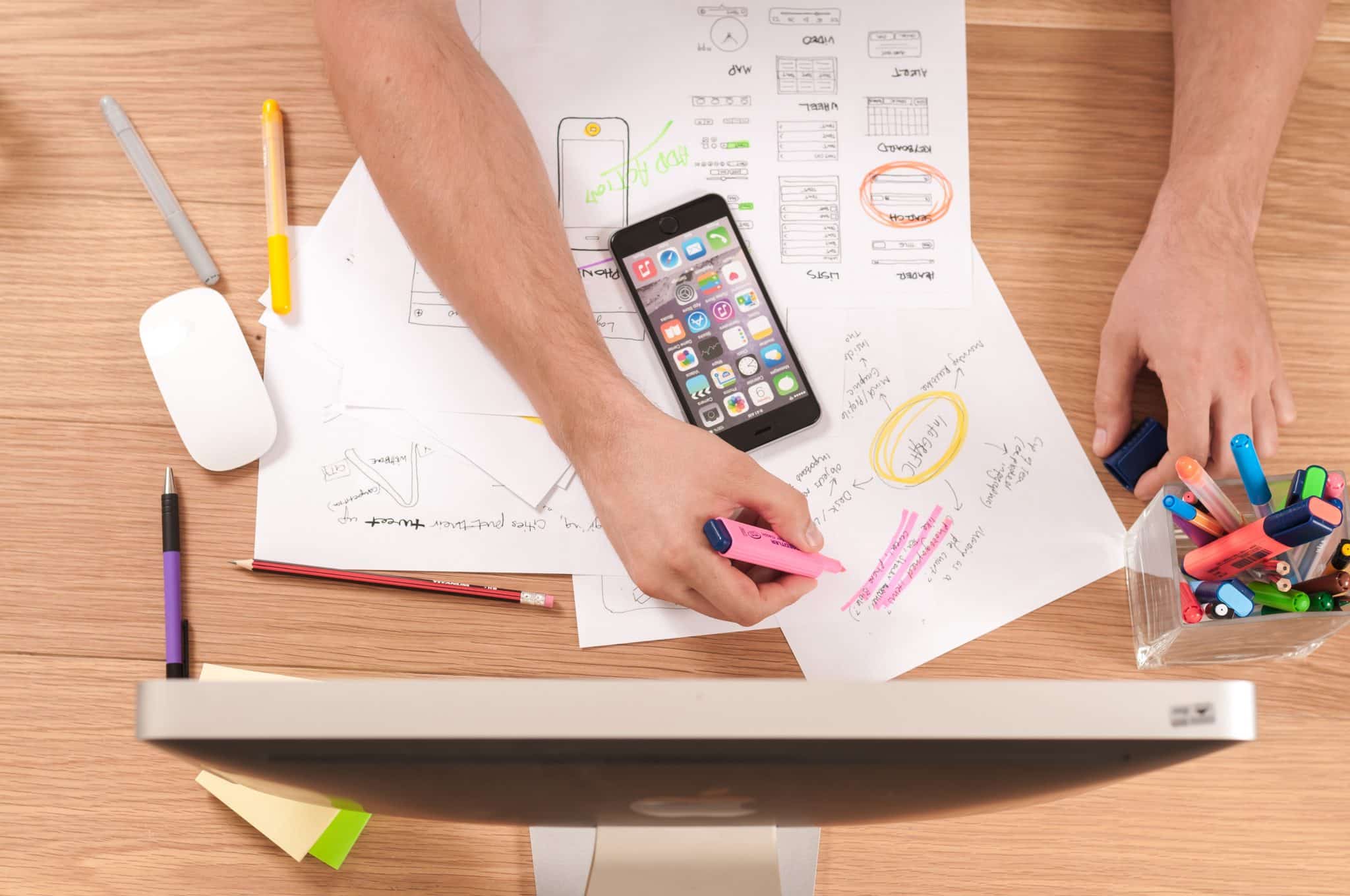 Implementing your employee wellbeing programme
Now you've laid the groundwork, it's time to put your wellbeing plans into action!
In order to engage employees, you're going to need to tell them what to expect, why it's happening, and what they will gain from it. Without clear incentives for participation, your wellbeing programme is unlikely to reach its full potential.


How to engage your employees With your health and wellbeing programmes
Effective comms
Effective communication is the cornerstone of an effective wellbeing programme. When employees feel informed about what is going on in the organisation, it boosts motivation and helps individuals understand how their work fits into the bigger picture. Aim to be as transparent as possible about the strategic vision and direction for your wellbeing programme, and include employees in decision-making wherever you can.


Activate Wellbeing Champions
If you've created and even trained up a team of wellbeing champions, now is the time to set them to work. These champions will build bridges throughout the organisation so more individuals engage with and benefit from the programme.


Participation from leadership
Send a clear message that wellbeing matters by getting your leaders on board and leading by example. Senior managers can show their support through active participation in events and reinforcing key wellbeing messages at other times. Consider making wellbeing an agenda item for One-to-ones and team meetings to keep the open conversation going.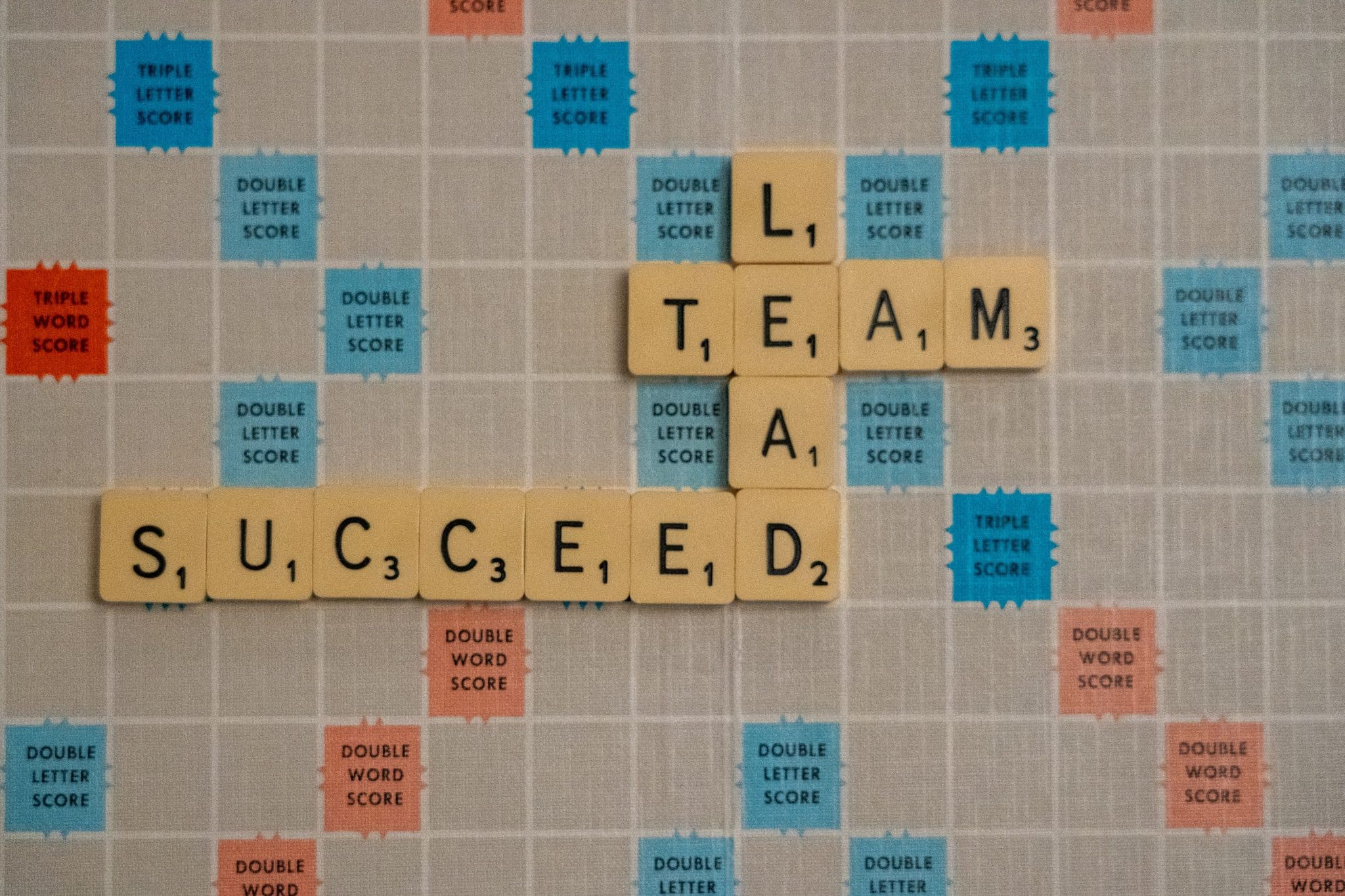 How to assess the effectiveness of your employee wellbeing programme
Wellbeing programmes can be difficult to evaluate. But, by tackling the subject of metrics during the planning stage, you should hopefully have some results to review! Continuously reviewing this data can help you identify successes you can build on as well as gaps that need to be filled.


Tap into existing data
Human resources will often already have a range of relevant metrics and data you can draw on.
For example, if an employee satisfaction survey revealed discontent with level of care shown towards wellness and overall health – repeat the survey later to identify changes.
Alternatively, you might want to look at business metrics such as absences and retention to track the impact you're creating.


Collect your own data
If you want to get more granular with your analysis, it may be worthwhile to develop a data collection approach that's tailored to your programme.

This can be as simple as a self-designed questionnaire you send out periodically but there's also a range of wellbeing apps and plug-ins that can help you to gather information continuously and spot patterns more easily.

If you'd like guidance in this area, get in touch with us and we can support you to develop a data collection approach that suits you and incorporates the latest best practice.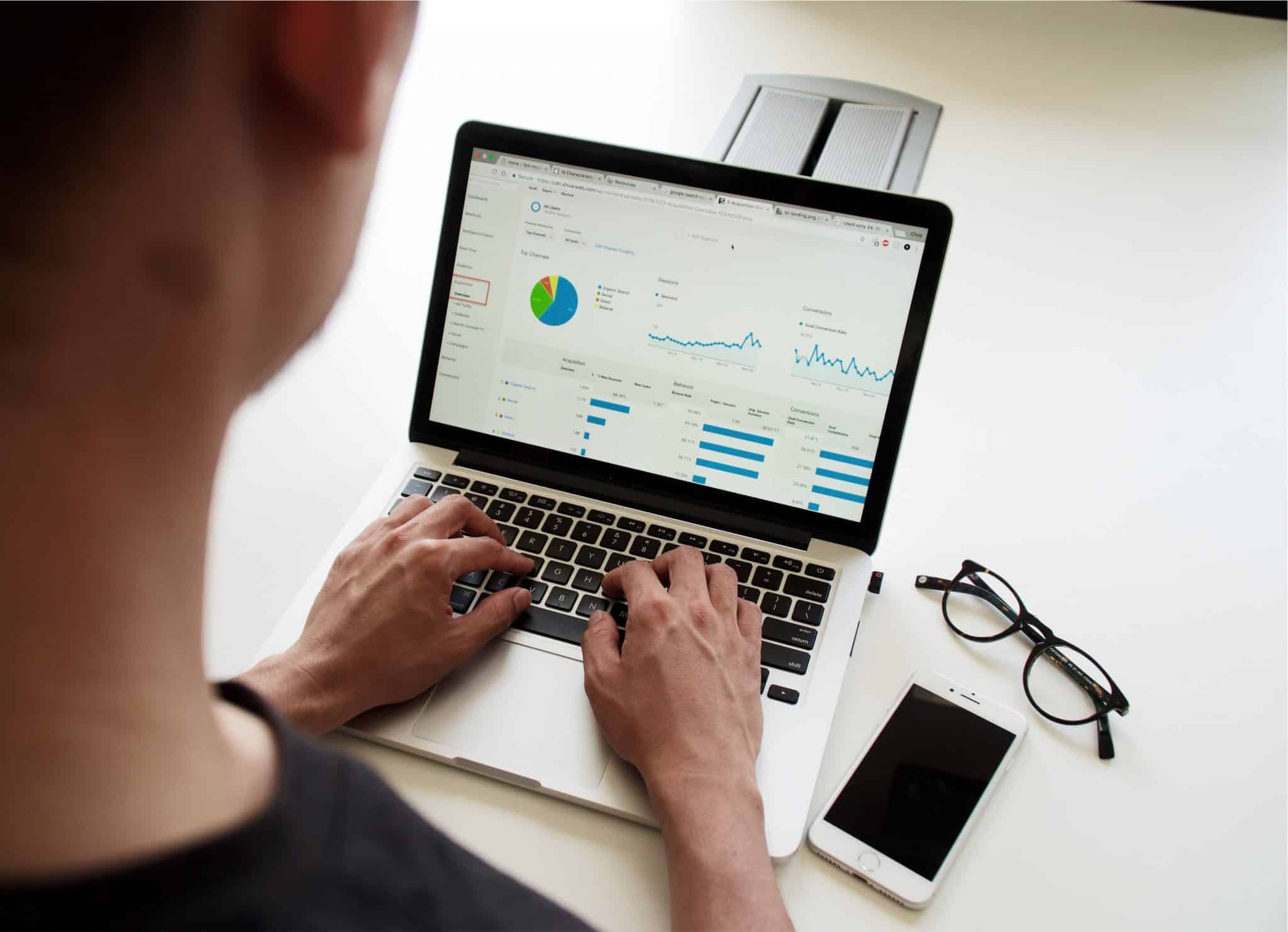 That's a wrap
Thanks for staying with us! It's certainly not easy to implement a successful employee wellbeing programme but we hope you've now got some new ideas that will take you closer to your goals.
However, if you feel like you could benefit from some extra support, do get in touch. Our experts can help you develop wellbeing strategies and programmes to create positive change in your organisation.
If you're searching for a partner to help improve wellbeing and happiness in your workplace, get in touch with a friendly member of our team. We're here to help you reach your goals.
Other articles that may interest you…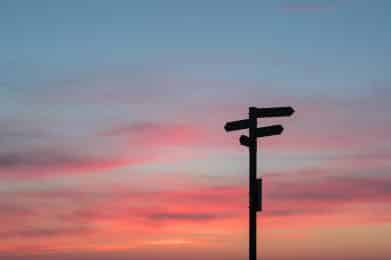 Check out the best wellbeing at work initiatives and ideas that we've seen at Haptivate in 2021.